You are hereThe SPARX Video Network Preview
The SPARX Video Network Preview
---
ORGANIZE, QUALIFY, AGGREGATE and COLLATE. YOUR VIDEO VIEWING EXPERIENCE
Check out
The SPARX Video Network
Curated by SPARX Enterprises
featuring
The Purdue Video Channel
The SPARX Video Network is an online Network that you can Subscribe to and then watch all kinds of Video Curated just for YOU.
Its kind of like a substitution for your cable, and your cable bill.
See tens of thousand of hours of compelling video on YOUR Video Screen.
Check out tons of channels of all types
Subscribe to The SPARX Video Network
Fill out an American SPARX Account Profile (ASAP)
and have SPARX further CURATE your experience.
Are you sick of TV already? Maybe sick of the NFL? Subscribe to The Football Video Channel . You can still watch football on Thursdays, Sundays, and Monday night, but they will be college games. Any college game ever played, and I guarantee you, every player will be standing when the National Anthem is played. Spend your "football watching time" watching any of over 50,000 college football games played since 1903. Relive old school football.
As a matter of fact, once you Subscribe to The SPARX Video Network
and a Channel, you can watch what you want to watch, when you want to watch it, and on whatever you want to watch it on. And over and over again if you wish.
Most people will first be attracted to Subscribing to a specific Channel Like the The Football Video Channel or The Purdue Video Channel Of course, you can simply Subscribe to The SPARX Video Network
alone but mostly, it is recommended you subscribe to a channel which will simultaneously connect you to the Network.
If you'd like to start by just Subscribing to The SPARX Video Network, it is recommended that you purchase a 1 week subscription which will cost 1 cent plus the $4.99 Network Connection Fee, so $5 to start. You will then be asked to fill out an ASAP and tell SPARX a bit about yourself, SPARX will then recommend, and maybe create, channels for you to subscribe to and Curate cool stuff, just for you, to watch.
Initially the most popular channel will be The Purdue Video Channel.
What is THE PURDUE VIDEO CHANNEL?
The Purdue Video Channel can be experienced by riding the Channel link below. You won't be able to see the hundreds of Presentations on the channel until you
Subscribe to The Purdue Video Channel and The SPARX Video Network
but you can get a feel for how it works.
Basically The Purdue Video Channel will curate your experience and ability to see tens of thousands of hours of Purdue related content shot from as far back as 1912 right up into the 2000s
WELCOME TO "TV YOUR WAY" - JUST CLICK ON THE CHANNEL OF INTEREST BELOW. CHANNEL 1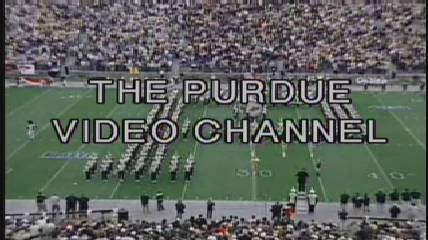 Watch what you want to watch, when you want to watch it, and where you want to watch it!
Under construction and Coming Soon!
-Feel free to email wdr@footballvideos.com or call 717-732-5643.
PURCHASE A PRESENTATION UPLOAD
Subscribe to The Purdue Video Channel"
BUY SOMETHING ON DVD THAT IS ON THE NETWORK
See What's on The Purdue Video Channel